In the last 9 months, HIFASS alongside an FSW-led CBO, Passion and Concern for Women Welfare and Empowerment Initiative (PACOWWEI) has been executing a Global Fund (GF) -HIV New Funding Model (NFM) funded by Society for Family Health (SFH) in 3 LGAs of the Federal Capital Territory.
The project sought to reduce the impact of HIV and AIDS among the key population by strengthening the capacity of Key Affected Populations (KAP) local organizations to deliver and impact positively in the lives of female sex workers with their clients at the grassroots level with key, high-quality HIV prevention and Minimum Prevention Package Intervention (MPPI) within Bwari, Gwagwalada and Kwali Area Council.
As part of the closeout activities for the GF-HIV-NFM extension project, an external stakeholder's closeout meeting was held for all implementing partners on 19th June, 2019 at Stanzel Grand Resort, Abuja.
The aim of the meeting was to update stakeholders on the progress in the implementation of the change ideas models amongst HIV Vulnerable and high risk Adolescent Girls and Young Women (AGYW), Men Sleeping with Men (MSM), Female Sex Workers (FSW) and People Who Inject Drugs (PWID); and to obtain feedback from stakeholders on GF-HIV-NFM extension phase implementation.
According to the report presented at the meeting, the State Program Specialist for SFH, Berkisu Momoh cited that the MPPI target of 2440 given was reached and surpassed by 2658 which was said to be impressive and has brought the project to a successful end in the FCT.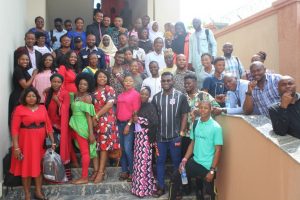 Group photograph of stakeholders
"The intervention was very impactful as lives were touched positively especially the Adolescent and Young People (AYPs) who were left behind and the project successfully reached out to them with high quality prevention services although there is always room for improvement."
Dr Uche Okoro, the Project Manager for FACA