National Tuberculosis & Leprosy Programme (NTBCLP) and  Breakthrough  ACTION-Nigeria (BA-N) on 18th, 20th and 21st September 2019 organized a 3-Day workshop on Advocacy Communication Social Mobilization (ACSM) guidelines. Participants were drawn from various health institutions which had 2 HIFASS HQ staff Godfrey Akadonye, Programme Coordinator and Linda Obi, Communication Officer in attendance. The workshop took place at Barcelona hotel Abuja on Day 1 while Day 2&3 was held at Kini Country guest Inn, Akwanga, Nassarawa State. The objectives of the workshop was aimed at the following:
To develop a simplified working framework for ASCM guidelines in line with the current National Strategic Plan for TB Control in Nigeria 2015-2020 at all levels of implementation for TB case findings for generally adoption nationwide.
To harmonize TB SBCC strategy, standardize creative briefs for content design teams and form the basis for development of National TB SBCC centerpiece materials.
To recommend key ACSM issues that may be considered for inclusion in the post-2020 National Strategic Plan.
The workshop was participatory as plenary presentations were held and participants were divided into 7 groups to work on the following topics/domains, namely; Diagnosis, Treatment, Gender and Human rights issues, Childhood, Stigma and Discrimination, Prevention, Private Sector (private providers).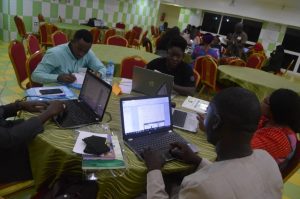 Diagnosis group during a group work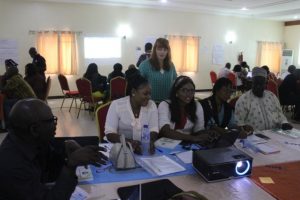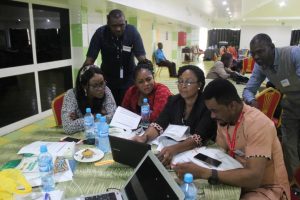 Treatment group during a brainstorming session with Heather Hancock of BA-N