A 2-Day meeting between HIFASS HQ staff and HIFASS-LOPIN 3 staff was held at Top rank galaxy hotel, Abuja from 27th – 28th September 2019. The meeting was aimed at concluding plans on the project close-out activation process.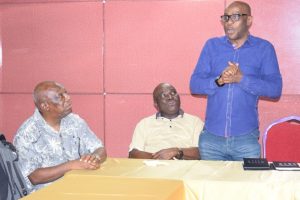 HIFASS Managing Director, Tuedon Uweja making a remark
The Managing Director, Tuedon Uweja in his remarks appreciated everyone who took part in ensuring the best for the project that led the entire team beyond the initial project cycle to the extension (modification 11). He further stated that the goal is to ensure that the project comes to a successful close while evaluating HIFASS' performances especially in the last two quarters.
The Chief of Party, Dr Adetunji Ademola in his remarks also added that the FY20, Q1 is the most important quarter on the project and said it would be unfair if all efforts are ruined at the end. Hence, how the team finishes will determine a lot for the organization, the project and reveal HIFASS' capacity in the work so far. Therefore, it is important to give the last lap the best shot. He further encouraged that for the sake of everyone, it is necessary that everyone does well and positively give their best. He guaranteed his support to ensure everyone has the best in doing the work legitimately.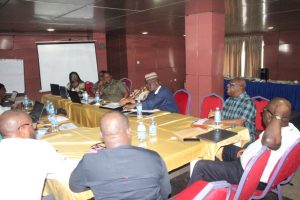 A cross section of participants at the meeting
"The 2-Day activity is the best and we need the best as we shall commence implementation by 1st October, 2019". He stated that there is already an existing work plan which would need to be prioritized and ensuring that all needed to be accomplished is carried out.
Plenary presentations were held on each day whereby each group gets to present their work to the entire 6 groups as draft plans were deliberated on and timelines set to accomplish assigned task.