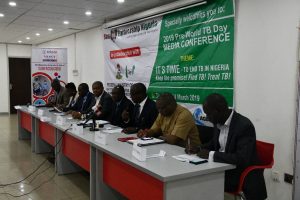 Each Year, March 24 is set aside to commemorate the World Tuberculosis (TB) Day to raise public awareness about the devastating social, economic and health impact of tuberculosis. Despite significant progress over the last decades, TB remains the world's deadliest infectious killer and require acceleration of efforts to end the TB epidemic globally and in Nigeria.
Every day, nearly 4500 people lose their lives to TB and close to 30,000 people fall ill with this preventable and curable disease. Global efforts to combat TB have saved an estimated 54 million lives since the year 2000 and reduced the TB mortality rate by 42%. To accelerate the TB response in countries to reach targets – Heads of State came together and made strong commitments to end TB at the first-ever UN High Level Meeting in September 2018 in New York.
As part of the week long planned activities to commemorate 2019 World TB Day, HIFASS in collaboration with partners from various health institutions starting from 14th – 25th March, 2019. The event kick-started with a Pre-press briefing which was held in Abuja on Thursday, 14th March with the theme being released "It's time!" and slogan "To end TB in Nigeria (keep the promise! Find TB! Treat TB)". At the event, the press were told to be TB advocates and create more awareness through media platforms. According to the US-CDC representative in Nigeria, Dr. Bethrand Odume, "to control TB in Nigeria, the sum of N147 billion has been estimated. N35 billon of that amount which is about 24 per cent has been met. To be very sincere, over time, there has been an increase in funding within the national TB programme and government has actually come up to rise to its responsibilities but the gap of 75 per cent still remains. No fewer than 18 people are reported to die as a result of the ailment every hour, thereby ranking Nigeria the sixth globally with nine per cent rate and the first in Africa after India and Indonesia which are at 26 and 11 per cent rate respectively. The estimated cost was expected to be raised by the government, communities, private sector, international donors and individuals. He lamented that most of the funding for the disease comes from foreign donors, adding that it was unacceptable and should be discouraged."
In the same vein, a community outreach and screening for TB cases was conducted in Kobi village on Wednesday, 20th March where the wife of the Nigerian President/TB Ambassador, Aisha Muhammadu Buhari and Vice President, Mrs Dolapo Osibanjo flagged off the TB Wellness On Wheel (WOW) truck. She called on Nigerians to test themselves for Tuberculosis (TB), being one of the world's most deadly diseases.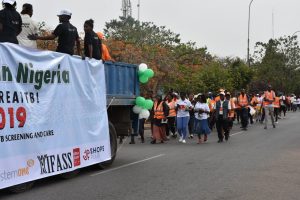 Also, in the spirit of commemorating the 2019 World TB Day, National Tuberculosis and Leprosy Control Programme (NTBLCP), partners from various health institutions and NGO organised a road walk on 23rd March 2019. The walk start off point was from Old parade ground to Area one roundabout in Abuja which was aimed at creating more public awareness about Tuberculosis.  Participants were decked eye-catching branded T-shirts, face caps and reflective jackets distributing IEC materials to passers-by and by-standers sensitizing them about the disease.
Similarly, on Sunday, 24th March 2019, Dr. Mrs. Aisha Muhammadu Buhari, the wife of Nigerian President, hosted key stakeholders at the State house banquet hall, Aso Rock, Abuja to celebrate TB champions and survivors in Nigeria.
At the event, she solicited the support of the private sector and media support in the fight to end tuberculosis in the country. Mrs. Aisha noted that TB is a major challenge globally and a killer disease, adding that it should be integrated in the fight against HIV/AIDS to reduce the deaths associated with the disease. According to her, "tuberculosis, despite being a curable disease, is still a major health challenge globally and remains the number one infectious killer disease in the world. In Nigeria, one of the major challenges of TB response is attributed to low cases of its discovery both in adult and children. This is attributed partly to poor knowledge about TB that influences the health seeking behaviour of people and low treatment coverage. This is one of the reasons I personally led a team to Kobi Village in Abuja on Wednesday, to create more awareness" she said.
In attendance at the event were Members of the National Assemblies, Awardees, Ambassadors and Embassies representatives, Wives of State Governors, Partners from public and private sectors, Celebrities, Religious leaders, Civil society and Community representatives.
To end the week-long planned series of activities, was a Ministerial press briefing at Sheraton hotel, Abuja on 25th March. Stakeholders from health institutions came together to launch road map to Translate UNHLM commitments on TB into action and launch of the report of the National catastrophic cost survey. Speaking at the event was Minister of Health, Prof. Isaac F. Adewole who was represented by his Permanent Secretary, Alhaji Abdullahi Abdulazeez Mashi. He said, Nigeria's TB treatment coverage for 2018 was 255, adding that out of an estimated 418, 000 new cases, only 106,533 cases were reported in 2018 leaving over 300,000 cases undiagnosed and funding gap, lack of awareness, technical capacity and poor private sector collaboration were crippling current efforts.