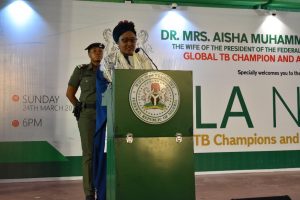 24th March every year is a day set aside to commemorate World Tuberculosis Day worldwide. On Sunday, 24th March 2019, Dr. Mrs. Aisha Muhammadu Buhari, the wife of Nigerian President who also is the TB Ambassador, hosted key stakeholders at the State house banquet hall, Aso Rock, Abuja to celebrate TB champions and survivors in Nigeria.
At the event, she solicited the support of the private sector and media support in the fight to end tuberculosis in the country. Mrs. Aisha noted that TB is a major challenge globally and a killer disease, adding that it should be integrated in the fight against HIV/AIDS to reduce the deaths associated with the disease. According to her, "tuberculosis, despite being a curable disease, is still a major health challenge globally and remains the number one infectious killer disease in the world.In Nigeria, one of the major challenges of TB response is attributed to low cases of its discovery both in adult and children.This is attributed partly to poor knowledge about TB that influences the health seeking behaviour of people and low treatment coverage.This is one of the reasons I personally led a team to Kobi Village in Abuja on Wednesday, to create more awareness" she said.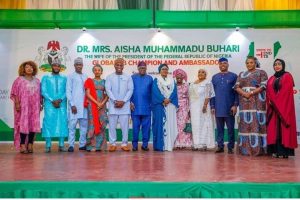 She said "instead of buying treated mosquito nets to fight malaria, Nigeria should go for a permanent solution that would help to completely eradicate mosquitoes in the country. She urged them to assist stakeholders in tackling report cases of tuberculosis from every nook and cranny of Nigeria. Similarly, she urged stakeholders to make concerted efforts towards providing permanent solution to tuberculosis epidemic in Nigeria.
Devcoms Program Director, Akin Jimoh stated that all Nigerians need to be concerned about the missing cases of TB and "we must all be in the forefront to find and treat TB cases" in the country. "We did it for Human Immunodeficiency Virus (HIV) and now the cases are on the downward spiral.  We need to help ourselves to find and treat TB."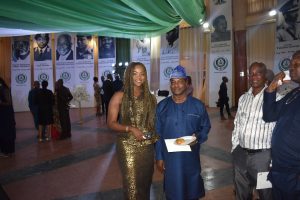 Also in attendance were Members of the National Assemblies, Awardees, Ambassadors and Embassies representatives, wives of State Governors, Partners from public and private sectors, Celebrities, Religious leaders, Civil society, Community representatives, HIFASS Program Manager, Col. Adeoye Felix (rtd) and Communication Officer, Linda Obi and many others.